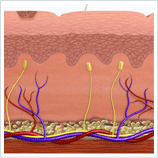 Epidermal Pigmentation
The majority of epidermal pigmentation is caused by the UV (Ultra Violet) rays from the Sun.The skin is affected by the UV rays and over time brown spots known as solar lentigos can form. Congenital Epidermal freckle is another cause.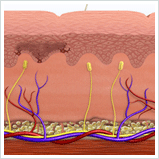 Dermal Pigmentation
Hormonal change arising from several causes including some oral contraceptives, pregnancy or pre-menopausal period can cause pigmentation. Dermal pigmentation (Chloasma / Melasma) can be treated more effectively together with internal medicine.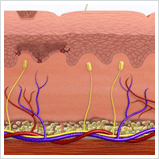 Mixed Pigmentation
Mixed pigmentation can be stimulated and triggered by sunlight. This condition usually requires longer session of treatment.
Pastelle toning laser
The PASTELLE is the New Diamond Standard in Q-Switched Laser Technology. With its outstanding results, great design and reliable technology, it is currently rewriting what we can do with Q-Switched lasers for the treatment of epidermal and dermal pigmented lesions. The PASTELLE Laser, Treats pigmentation, sun damage melasma, and even acne scars (Discolouration). This Laser uses acoustic vibrations to break up the pigments which scatter into small pieces. The benefit of the Pastelle Laser compared to the IPL or Fraxel is that it goes deeper underneath the skin and causes the Melanin to scatter. Pastelle toning laser is one of the best ways to treat hormonal spots and all different types of pigmentation conditions.
Price: $250 to $400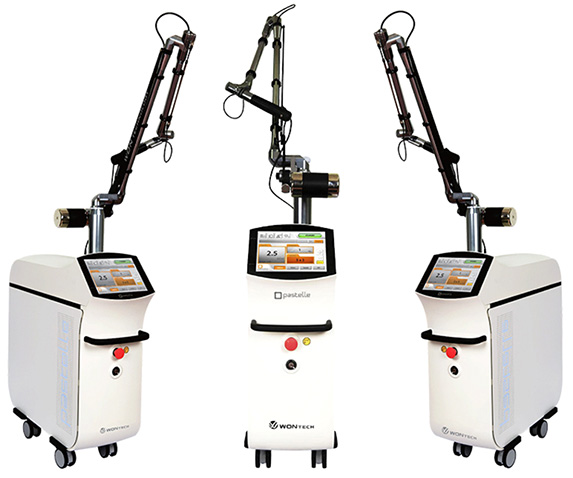 Ultrapulse Co2 Laser
The UltraPulse produces pulses of laser light, rather than a continuous beam. Because the ultrapulse laser beam is very fine it has been shown to lessen the risk of scarring and most people do not feel anything. This laser is effective for skin tags, warts, millis, sebaceous hyperplasia and epidermal brown spots.
Mole Removal Cost : $70 to $350
LDM
Sono Effect ultrasound treatment for tightening, acne, etc
For a beautiful skin appearance
Skin rejuvenation using equipment-based techniques is very popular, because professional equipment can generally produce more effective therapy results which, most importantly, can be seen quickly.
The LDM®-Sonoskin with its two innovative ultrasound technologies is the basic machine in the LDM® range of equipment from Wellcomet® and was developed specially for cosmetic applications.
The machine has a clear, easy-to-use choice of programs ranging from wrinkle treatment through to various body applications. The LDM®-Sonoskin thus covers a broad spectrum of indications and allows the user to work rapidly and effectively with a number of different aesthetic indications.
Some applications:
Wrinkle treatment
Wrinkle reduction
Skin rejuvenation
Acne
Hypertrophic scars/keloids
Acne scars
Pre- and post-liposuction treatments
Stretch marks
Cellulite
Sonophoresis
What effect does LDM®-Sonoskin have on tissue?
One of the most important requirements for a beautiful, healthy skin appearance is the balance between the build-up and breakdown of the connective tissue. As skin ages or if it suffers from problems such as acne, this balance is generally disrupted and has to be re-regulated.
While conventional ultrasound systems only use standard frequency settings of 1 and 3 MHz for this, with the LDM®-Sonoskin, the unique dual-frequency ultrasound known as LDM®(Local Dynamic Micromassage) and the integrated 10 MHz ultrasound wave are applied.
LDM® technology combines two ultrasound waves with different frequencies into one unique "hybrid wave", thus creating special pressure gradients in the tissue. In this way, the production of collagen and elastin can be specifically influenced and the state of balance in the tissue improved.
The advantage of 10 MHz ultrasound waves lies in the fact that their strong effect is concentrated mainly on the surface layers of skin such as the epidermis and dermis. Because the half value depth of this frequency is just 0.3 cm, it is particularly suitable, for example, for treatment of the facial skin.
The LDM®-Sonoskin often produces a positive "wow effect" straight after one application. For even better results, the LDM®-Sonoskin can be used in combination with other machines/methods. The machine is already used successfully in many institutes for treatment before and after plastic surgery.
The LDM technology is a new, clinical anti-aging method, which improves skin sustainable. Local Dynamic micro-massage works deep into the skin and plumps up wrinkles quickly visible - without injection! The ultrasonic treatment with LDM helps successful in mitigating the effects of wrinkles, to tighten connective tissue, before and after surgery and achieved a lifting effect without surgery.
Some of the positive effects of ultrasound on the fabric are Promotion of the removal of metabolic products; Promoting blood circulation; Activation of the lymphatic transport; Activation of collagen and Massage of the tissue from the inside.
Price $200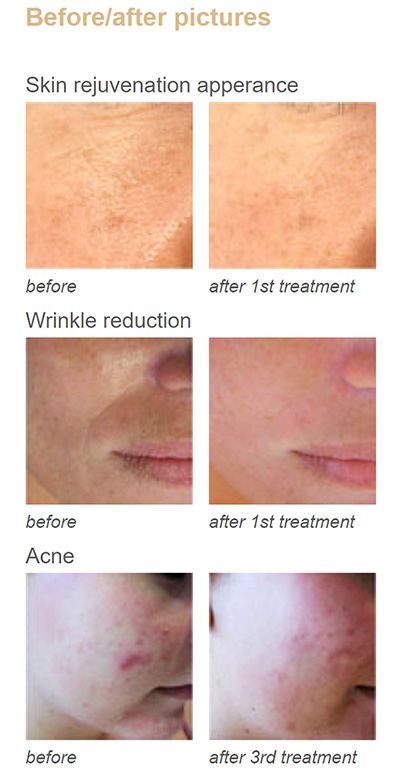 HELIOS III
The latest product in Laseroptek's popular HELIOS line, the HELIOS III takes the treatment of pigmented lesions to a new level. The new HELIOS III will combine Laseroptek's patented Nd:YAG technology with the newest industry features and technology. The HELIOS III design also features a space-saving smaller footprint.
The HELIOS III includes four auto-sensing handpieces:
1064nm Fractional
532nm Fractional
Zoom
Collimated
Each of the HELIOS III handpieces provides a high stability of output energy. The most amazing feature of the HELIOS III Nd:YAG laser is the ability to adjust from Single Pulse to Twin Pulse.
The Single Pulse provides a single focused beam that features more power than its competitors. The beam profile of the HELIOS III Single Pulse consists of one peak delivering a high amount of focused energy. The Single Pulse function is ideal for treating tattoos and various other skin lesions.
The Twin Pulse, also called Real Twin Pulse (RTP), provides a dual pulse, which is having two smaller peaks closer together, rather than one single pulse. This resulting dual pulse delivers more energy than the single pulse, but spreads it out over both peaks. The Twin Pulse is best used for pigmented lesions.
HELIOS III also utilizes the new Fractional 532nm Handpiece; this Diffraction Optical Element (DOE) device produces micro-beams with exactly equal fluence, without sacrificing the high stability of output energy.
Through the use of patented 4G toning technology, the HELIOS III provides faster and more effective laser toning.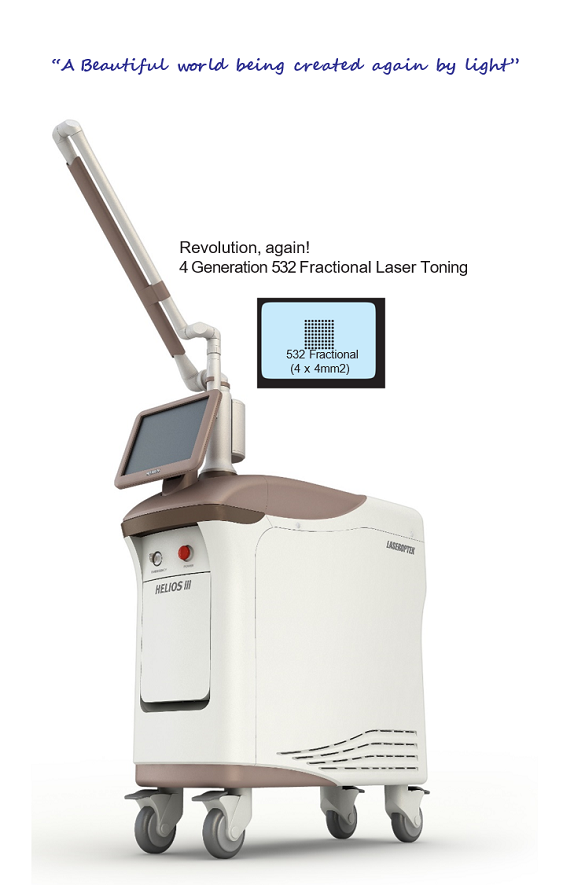 What is HELIOS 4G Toning ?
General laser toning uses only two modes (black/blue) at single wavelength (1064nm) that it takes long to treat pigments settled at various depths and the laser toning is not effective for some patients. However, Helios 4G toning uses four modes at two wavelength (1064nm/532nm) that it effectively treats pigments settled at various depths. so it does not only reduce the treatment time but also increase efficacy of the treatment.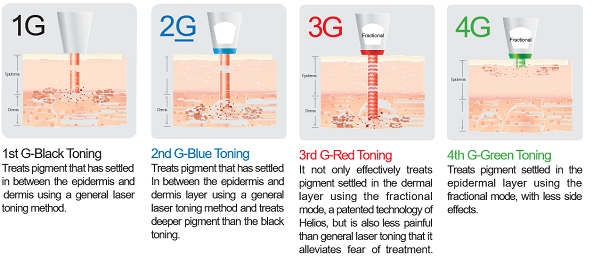 Special Features - HELIOS III
The HELIOS III design features a space-saving smaller footprint.
The HELIOS III includes four auto-sensing handpieces:
- 1064nm Fractional
- 532nm Fractional
- Zoom
- Collimated
The ability to adjust from Single Pulse to Twin Pulse, also called Real Twin Pulse (RTP)
Through the use of patented 4G toning technology, the HELIOS III provides faster and more effective laser toning.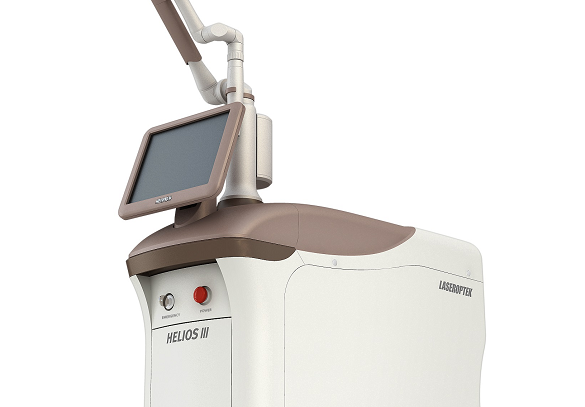 Treatment Indications- HELIOS III
Melasma
Becker's Nevus
Acquired, Bilateral Nevus of Ota-like Macules (ABNOM)
Lentigo
Onychomycosis (Nail Fungus)
Tattoos
Uneven Skin Tone
Nevus of Ota
Cafe au Lait spots